<--Back to list
Act now : 7 days to fix 4 years' mistakes
Tim Considine
Thursday, November 5, 2020
The count-down to 31st December is well & truly on. Yet Boris continues to patch things up with the EU in a major strategic error. Help us prevent this.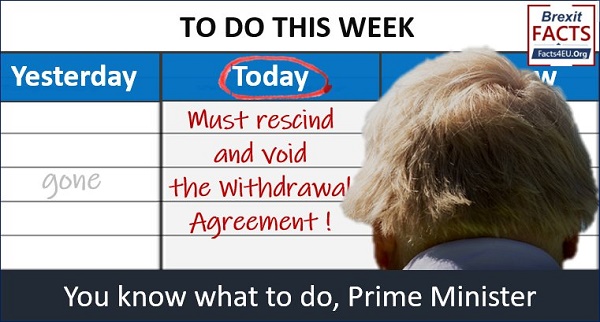 This week 16 major Brexit campaigning organisations united in a common message to PM and MPs.
It's already gained significant traction.
Now it's YOUR turn.
Help us to get this message across with an undeniable people's surge of support.
What can ordinary voters do?
Today we are urging all those who voted for a free, independent, and sovereign United Kingdom to stand up and be counted. If you would like to do something positive to help, there are two things you can do:-
Please sign and send this Letter to the Prime Minister : The Big Brexit Initiative letter

Please sign and send this Letter to your MP : The voter's 'MP letter' version
You can find your MP's contact details here.
16 major Brexit organisations, 25 key individuals have all signed
Never before have so many major Brexit campaigning organisations combined behind one message to Government. Collectively these organisations reflect the views of millions of voters who took the PM at his word that there would be no political alignment with the EU.

Will you, personally, act now?
We know that doing nothing, or sending an email, is so much easier than sending a physical letter, but if you could make the effort to email and send letters this will make far, far more impact. Let's inundate No.10 – and MPs' pigeon-holes in the Commons – with letters.
Please print off, sign, scan, and email this letter to the Prime Minister today. Then please physically post your letter. These days online petitions get almost ignored. Tens of thousands of emails and sackfuls of physical mail are much harder to ignore.
Then please do the same with the letter which we have bespoked for you to send to your MP.
<--Back to list or Previous Article or Next Article
We welcome comments, so add yours below.
Anonymous comments need approval before showing on the page.